Fri, 12 Jul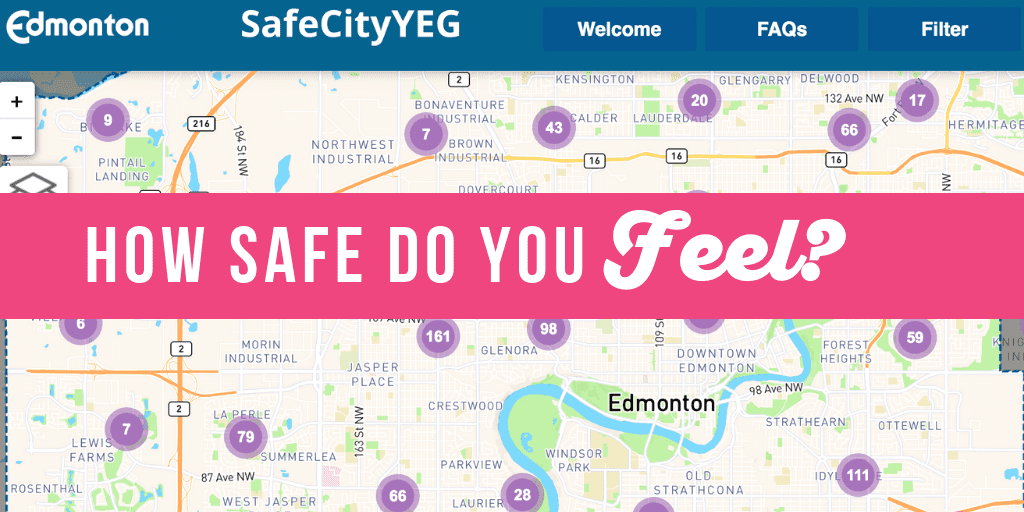 That uneasy, gut reaction of not feeling safe can give anyone the heebie-jeebies and deep desire to "run" for safety. Feeling safe is a goal that all cities strive for and citizens want to be comfortable where they work, live and play. That being said, how can a city track when and how people aren't feeling safe in order to better understand the issues at hand and to work with citizens to improve the overall safety landscape of the city?
The answer: A crowdsourced map making it easy for Edmontonians to report when they don't feel safe. 
SafeCityYEG allows citizens like you and me to share our positive and negative experiences around feeling safe in our city. We are able to mark locations that feel bright, vibrant and welcoming and we can mark areas where it feels too dark, or if we have been harassed or just generally scared.
According to cbc.ca:
"Participants can state whether they feel "safe" or "unsafe" in a particular location. The tool then prompts people to answer questions about why they feel that way, with a pull-down menu of options that covers topics such as lighting, signage, and whether a person was harassed.The data on the map is updated constantly, with people updating or deleting their reports"
The idea of Safe City YEG, came from an initiative to make Edmonton overall safer for women from their involvement in the United Nations Women Safe Cities and Safe Public Spaces global initiative.
The difficulty will come down to the city combing through this plethora of data to determine validity when it comes to aiming to resolve concerns and ultimately improve general "safety" for most residents. Like any data, it can be skewed, so it will be up to the people involved to weigh how to use the data provided optimally.
Either way a great data initiative and one that we will be investing time looking over, as ultimately, we as real estate agents are asked our opinions about this question very often. In an effort to help many clients establish their "boundaries" for safety, we also offer private walking tours of most neighbourhoods, as we truly believe that we have to zone in on each of our client's own comfort levels when it comes to safety.
Do you think sharing "safety" viewpoints could positively or negatively impact home values in a neighbourhood?